FAQ About Whole House Humidifiers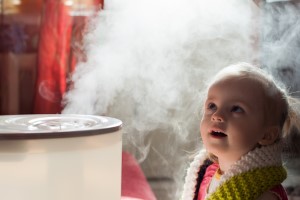 Balancing the humidity level in your home is important. Many homeowners choose to install a whole house humidifier to get this balance. Too much moisture is just as unhealthy as too little, so humidifiers can become a necessary household appliance.
Perhaps you are here looking for answers to your questions about whole house humidifiers. Check out these frequently asked questions and answers about whole house humidifiers from our pros at NuAir Solutions. If you are in the Westchester area, please feel free to call if you don't see the answer to your question below.
How are whole house humidifiers different from portable humidifiers?
Whole house humidifiers are installed into the HVAC system.
They keep every room comfortable rather than one room at a time.
They operate automatically and have a sensor to test the humidity level in the house.
You don't have to fill a whole house humidifier with water.
They cost pennies per yr. to operate and initial cost is usually much less than larger portable units cost.
They never cause too much humidity like portables do.
Can mold grow inside a whole house humidifier?
Most whole house humidifiers of good quality will have an effective system of draining water away and an antimicrobial treated water panel. If there is no standing water, then mold, mildew, and bacteria won't grow. Be careful of what type you choose to install, get advice from your local humidifier installation professional.
Does a whole house humidifier damage my furnace or cooling system?
The humidity created by an evaporative style whole house humidifier is in the form of a gas that passes through the HVAC components and ductwork. It's no different than the natural humidity present in a home.
What type of care does a whole house humidifier need?
Whole house humidifiers have a water panel evaporator where the humidity is generated. The panel slides in an out and is located between the water distribution tray and scale control insert. Change the panel on the humidifier about every six months. However, certain parts need to be cleaned.
There are different types of humidifiers for your furnace or central air system. The easiest way to care for the equipment is to ask your HVAC pro to provide maintenance for the humidifier when they give your heating and cooling equipment a seasonal tune up.
If you are looking for more information about Whole House Humidifiers in Westchester County then please call 914-381-5764 or complete our online request form.